The first step in the wedding planning process is choosing what type of wedding you want to have since that determines many of your later decisions. Unless you are committed to a religious ceremony, which typically follows an unwavering path, you have a dozen different options for how and where you will tie the knot.
Religious Ceremony

A religious marriage takes place in a house of worship where the bride or groom is a member of the congregation. The reception usually occurs immediately after the exchanging of vows, either in the church's banquet room or at a separate location. Couples must still obtain a civil marriage license from their local courthouse or county clerk's office for the union to have legal standing.
Civil wedding

A civil wedding is a ceremony presided over by a local civil authority, such as an elected or appointed judge, Justice of the Peace or the mayor of a locality. Civil wedding ceremonies may use references to God or a deity (except in UK law), but generally no references to a particular religion or denomination. They can be either elaborate or simple. Many civil wedding ceremonies take place in local town or city halls or courthouses in judges' chambers.
Interfaith
An "interfaith" marriage is a marriage between a couple whose religious heritages are different – for example Hindu, Muslim or Jewish with Protestant or Catholic or with people who have no formal faith affiliation at all. An "interfaith" wedding can also refer to a wedding between two different Christian denominations- especially those which have different styles from each other.
Intercultural
Intercultural Marriages between couples from different cultures are quite common now in Canada. We are proficient at blending different traditions.
Destination Wedding

Usually held in an exotic location, destination weddings have soared in popularity during the past decade. Since a destination event requires travel, the wedding festivities are intimate with typically fewer than 20 people. Couples love the all-inclusive package that enables them to combine the marriage ceremony with the honeymoon.
Non-denominational weddings
These days couples referring to "non-denominational weddings" tend to mean a wedding where the clergy or officiant who marries you does not follow the usual religious wedding text of his/her church/faith for your wedding. Non-denominational weddings tend to vary widely in their spiritual content and references to God. Often couples asking for "non-denominational" weddings may mean ceremonies which are "spiritual" but not religious. "Spiritual" usually means a sense that a wedding is a sacred event in which couples make their vows not only before families and friends but also before a higher Power/God.
Double Wedding
Normally consisting of best friends or siblings, a double wedding includes two couples participating in a single marriage ceremony. Each couple participates in their own set of wedding rites, usually with the eldest bride going first. The other bride and groom generally serve as attendants.
Shotgun wedding

A shotgun wedding is a wedding in which the groom is reluctant to marry the bride, however, is strongly encouraged to do so to avoid family, social or legal repercussions. In many cases, the bride is pregnant before the wedding and the family of the bride, most commonly the bride's father, insists that the groom marry the bride before the pregnancy becomes obvious.
Group Wedding
Also known as a mass marriage ceremony, the group wedding involves numerous couples who legally tie the knot at the same time. Typically hosted by wedding venues and cities, group weddings are an attractive option for couples on a budget who want to celebrate their love in a very public way. The venue also serves as the reception site where newlyweds receive an individual cake and champagne toast.
same-sex wedding

A same-sex wedding is a ceremony in which two people of the same sex are married. This event may be legally documented as a marriage or another legally recognized partnership such as a civil union. Where such partnerships are not legally recognized, the wedding may be a religious or symbolic ceremony designed to provide an opportunity to make the same public declarations and celebration with friends and family that any other type of wedding may afford. These are often referred to as "commitment ceremonies."
Elopement
Elopement is the act of getting married, often unexpectedly, without inviting guests to the wedding. In some cases a small group of family and/or friends may be present, while in others, the engaged couple may marry without the consent and/or knowledge of parents or others. While the couple may or may not be widely known to be engaged prior to the elopement, the wedding itself is generally a surprise to those who are later informed of its occurrence.
White wedding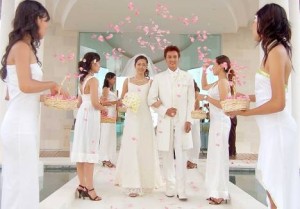 A white wedding is a term for a traditional formal or semi-formal Western wedding. This term refers to the color of the wedding dress, which became popular after Queen Victoria wore a pure white gown when she married Prince Albert, and many were quick to copy her choice. At the time, the color white to many symbolized both extravagance and sexual purity, and had become the color for use by girls of the royal court.
Cruise Wedding
A type of destination wedding, cruise marriage ceremonies are officiated by the ship's captain or a clergy member at port. Onboard wedding planners and event coordinators help customize every last detail of the intimate event. Many cruise ships now provide webcams so you can televise the big moment to those at home who could not attend.
Reference  —  http://en.wikipedia.org/wiki/Wedding