Getting involved in a wedding entails a lot of hard work, organizing, and planning just to minimize or avoid problems throwing your dream wedding event of a lifetime. For brides, you need to choose the flowers to add in, the venue of your ceremony, the caterer for your preferred cuisine, your photo booth, and your wedding gown to name a few. For wedding photographers, you need to handle your entire studio from the day a future bride calls to the day the final wedding album is delivered. Thanks to these iPad wedding applications that are so popular in iTunes. These will assist you get more things done and run your event like a pro.
The Knot Wedding Dress Look Book
Every bride needs to find her dress. The folks at The Knot have come to the rescue with their app, helping you browse hundreds of dresses from your mobile device. Knot Wedding Dress Look Book app. Available on iTunes (Free).
Pinterest
This is the mac daddy of wedding inspiration apps. You can find inspiration for every facet of your wedding, from dresses to decorations and everything in between. You never know when inspiration will strike so download the app today and stay focused. Available on Itunes and Android (Free).
The Knot Ultimate Wedding Planner
With the Knot Ultimate Wedding Planner, users can access wedding planning details anytime, anywhere. Stay organized and manage your budget and track payments with the Knot's easy to use budget tool. Get inspired and see ideas for your dress, hairstyles, makeup, cakes, decor, vendors, and more. The Knot Ultimate Wedding Planner offers some of the best planning tools and inspiration you won't find anywhere else. Available on Itunes. (Free)
Appy Couple
With Appy Couple you can design your very own app and showcase all of the information about your wedding day in one place. This includes sharing photos, shopping the registry, travel and hotel details, as well as the all-important RSVPs. Settings can be made private or public. Plus, couples can filter certain event updates for specific groups (i.e., bachelorette party, rehearsal dinner) and there is unlimited photo storage. ($28 setup fee for couple, app download free for all guests. Check it out.
Pro Wedding Planner
Are you a super-organized bride? Do you want to manage every single little detail of the wedding? We may have found the app for you. In addition to a seating-plan utility, the app allows users to create an augmented reality by uploading images of the reception site. Brides can then decorate the room on their phones to see how everything will look. When that's done, track RSVPs, to-do-lists and budgets all in the same space. ($4.99; iTunes)
Wedding Party
This app guests at the wedding take and upload their photos to a single site viewable on MyWedding.com. Think of it as a more private version of Instagram and you're on the right track. (Free; iTunes & Android)
myPantone Wedding & Events
This app has tons of color palettes and wedding colors. Browse around to find the colors you want for everything from bridesmaid dresses and shoes to cakes and flowers, and everything in between. You can even create your own personal wedding 'styleboard' with everyone helping you plan your big day. (iTunes, $4.99)
Evernote
While not a wedding app specifically, this tool may be your best best for staying totally organized and not losing your mind. It is perfect for creating wedding planning notes, managing guest lists, budgets and to-do lists. The good news is that it syncs everywhere so you can co-ordinate with your partner. Use shared notebooks and you both have access to contracts with vendors, travel itineraries, guest lists and more. (iTunes & Android. Free)
Wedding Budget
Weddings involve lots of purchases, and it's easy to go over budget without realizing it. Those little purchases add up! The Wedding Budget app helps you stay on top of all the expenses for the big day. It gives you plenty of options to create your own custom wedding budget and track every cent spent. (iTunes, Free)
Wedding Wire
The Wedding Wire app has lots of tools built in to help you with every part of your wedding planning process. Browse for the perfect dress, find beautiful invitations, and even locate local wedding vendors. Even has a wedding to-do list, budget, guest list, and more. (iTunes and Android. Free)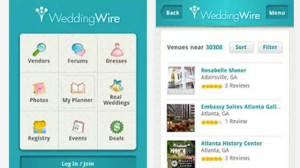 Brides Wedding Genius
Cut the stress involve in planning your wedding with this tool while having fun. With helpful features from arranging your guest list to making inspiration boards. Planning will be easier on the fly.
Ultimate Wedding Planner
This app is chock full of features you need to plan your wedding. The list includes infinite tips and trends and daily feeds of wedding-related pop culture. Also included are wedding-related, a budget calculator, wedding day schedule and a wedding countdown that will help you with your wedding plans.
iWedding Deluxe – The Wedding Planner
Keep all your essential information at your fingertips while this tool guides and inspires you. Packed with fully-customizable To-do List, budget spending assistance and much more. It has also integration with various social networks like Twitter and Facebook.
My Wedding Concierge – Inspiration Engine
When planning your wedding event, this app will help you find a florist or a caterer that complements the idea your are hoping for. You can find any type of supplier here wherein you can locate, email, call, or browse their website so you can plan together the event you wish for.
Wedding 911 by The Knot
From when to cut your wedding cake to how to arrange your wedding party, this app is your on-the-go source for professional wedding advice. You can post a question about your planning process and get answers right away. And it's free.
Bride Guide
Keep track of everything you need to do to plan your wedding event. It's a wedding planner that explains each facet of planning a wedding like getting started, ceremony, reception, stationery, flowers, music, photography, videography, portrait and a lot more. This tool is an extensive app with huge functionality.
Wedding Budget Tracker
Create categories, save money, and keep track of how much is spent with this app to help you save money while planning your wedding.
Second Shootr
Being the ultimate digital assistant for all professional photographers, you can store everything you need to know about the people involved in your photographic event. This tool will ensure you have all your kit with you and be reminded of your upcoming key events. You can also choose to send completed photographs.
SmartStudio: Wedding Photographer Studio Manager
An app for managing your wedding photography studio from the day a prospective bride calls to the day the final wedding album or product is delivered. You can organize your packages and associate them with your bookings. You can also track and manage payments due across multiple bookings.
Reference : http://www.topweddingsites.com/wedding-blog/wedding-planning/10-best-wedding-apps-for-planning-your-big-day
http://weddingphotography.com.ph/3882/useful-ipad-apps-for-brides-and-wedding-photographers/